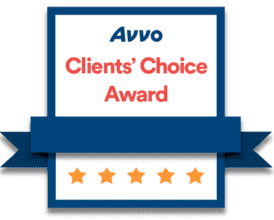 Attorney Lindsay Browne of the Law Office of Lindsay M. Browne is known throughout Corpus Christi and beyond as a compassionate, insightful divorce attorney. Our clients have graciously shared many of their family law case experiences with us, as we have displayed in our list of testimonials. However, they have also been kind enough to say great things about Attorney Browne with Avvo, one of the nation's largest and most trusted sources for attorney reviews and ratings.
In recognition of her unwavering dedication to excellence client representation and legal care, Attorney Browne was recently given an Avvo Clients' Choice Award. This is a tremendous badge of honor for Attorney Browne. Each and everything we do at our law firm is for our clients, their success, and their satisfaction. The Avvo Clients' Choice Award is an affirmation that we are doing right by them.
To be chosen as an Avvo Clients' Choice Award winner, an attorney must be highly praised by past clients who share their stories of success with Avvo. When an attorney has received an impressive number of these unofficial nominations in a single year, Avvo conducts a furthered review. The organization ensures nominees are deserving of the title and otherwise stand out among their peers. With her consistent 9.4 "Superb" Avvo rating, Attorney Browne was an easy choice for the Avvo Clients' Choice Award.
To learn more about Avvo and its Clients' Choice Award, you can click hereto view Attorney Browne's biography page on the official Avvo website. To learn more about the Law Office of Lindsay M. Browne, or to retain our services for a family lawor estate planningcase of your own, contact usat (361) 866-5229.